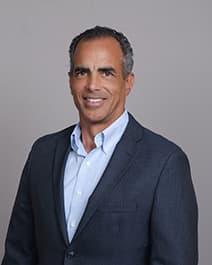 Eric is a West Point graduate with experience in sourcing, logistics, auditing, engineering, and operations. Building a worldwide, third-party logistics organization of 75 people at General Electric is among his many accomplishments while working for the Fortune 50 company. Eric excels at immersing himself in a business challenge and efficiently turning relevant information into unique, powerful global solutions.
Areas of Expertise
Supply Chain/Logistics
Engineering (electrical, mechanical, food production/packaging, HVAC, environmental)
Global Indirect Sourcing
Education and Certifications
Bachelor of Science, Electrical Engineering
United States Military Academy, West Point
Executive MBA, Outstanding Graduate
Six Sigma Black Belt
Fast Facts
Eric drove $40 million in annual savings while managing integrated logistics sourcing, transport, and operations within a diverse global business unit containing multiple P&Ls. 
While serving as a U.S. Army Supply and Aviation Officer, Captain Gaines was also a helicopter aviator.
He has worked on projects in China, Singapore, Japan, South Korea, India, Turkey, the UK, Spain, Portugal, Germany, Czech Republic, Romania, Sweden, Greece, Italy, Indonesia, Canada, and Mexico.