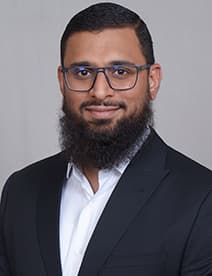 A creative problem-solver and strong communicator, Jasim has specialized in audits for over 15 years. His experience spans a wide range of industries including oil and gas, power generation, manufacturing, and health care. Jasim's career path includes work for an exploration and production company as well as roles with Protiviti and Ernst & Young. This combined industry and consulting background serves our clients well as Jasim applies his strong analytical skills to their projects.
Areas of Expertise
Contract Audits
Internal Audits
Sarbanes Oxley
Third-party Risk Management
Education and Certifications
Bachelor of Business Administration, Accounting, University of Houston
Certified Information Privacy Technologist (CIPT)
International Association of Privacy Professionals (IAPP)
Fast Facts
For one global client, Jasim reviewed 30 contracts annually to determine third-party compliance and improve post-award contracts.
He has worked on projects in the UK, Netherlands, UAE, Mexico, and Canada.
He speaks Urdu, Hindi, and Arabic.